My lovely friend Sarah introduced me to the Gem Preiz's The Anthropic Principle (supported by the Linden Endowment for the Arts) a week ago, and rather challenged me to incorporate it in my photographs.  You can learn much more about the sim here.   It's a large sprawling cityscape in black and neon, and is truly amazing to wander about!
It seemed a good opportunity to show you Spyralle's new offering for Genre this month, the Face Inter Face.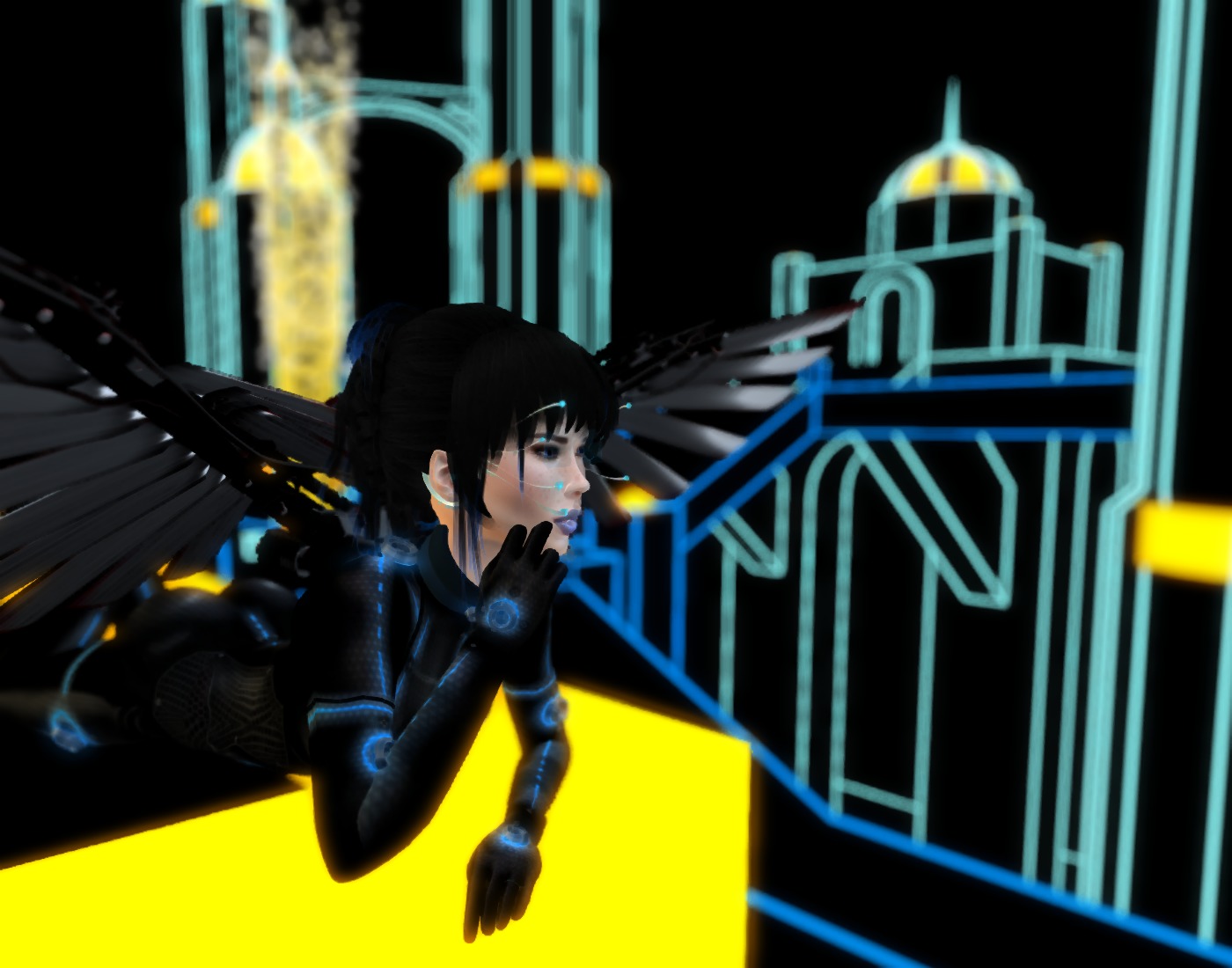 GRAVES — G257 Mainframe Bodysuit (blue)
AITUI — Mechanical Wings –  Majesty Snowbird +HUD Rare (Gacha item)
[Kikay] — Mega Lay Cutie pose
Face Inter Face calls back to an earlier piece that Spyralle did for Genre some years ago.  It's glasses, a heads-up display, and a restricted message sender all at the same time.  It features a texture-change hud to turn the sunglasses on/off and select one of four different colours, as well as select textures for the little balls and their support pieces.  You can't see the headband with my hair, but the headband terminates in ring-like headphone speakers for quality audio reception.  😉
Face Inter Face allows the user to project one of several little fractal images on the screen, as well as a couple of emoticons and (my favourite) the letters "afk" and "brb".  It's very cute!
A lovely extension of this would be to allow the user to drop in their own small image and toggle through those for the heads-up display.  I'll have to suggest that to Kerryth…..
For now, stop by Genre before June 11 and pick up a demo.  This is a lovely tech piece, and will easily complement a futuristic or post-apocalyptic get-up.  Or anything else you might think of pairing it with!
Mahalo!  A hui hou!